Q&A Sit Down with Anton/Bauer MPS
May 12, 2013
/
/
Comments Off

on Q&A Sit Down with Anton/Bauer MPS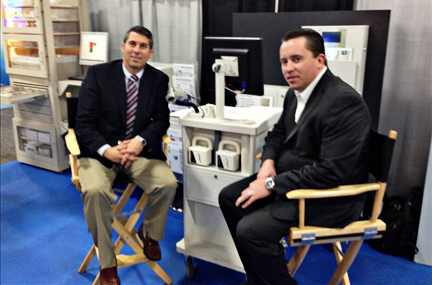 Recently Patrick Ney, Vice President of Anton/Bauer's Mobile Power Systems, sat down for a Q&A session regarding medical carts and their increasingly important power supply solutions. Below is a excerpt of the conversation. To view the entire Sit Down conversation please visit cartadvocate.com . This will be followed by a in depth article 0n Medical Cart Mobile Power Systems that you will find published at http://testarm2.dependentmedia.com/ .
conversation already in progress…
cartadvocate – Great. That makes a lot of sense Patrick. So if we were take that to a more granular level, what would the main points be?
PN – The points to consider when selecting a medical cart power system include.
1.       Runtime is one of the most important variables to consider: During the planning stage, the hospital must understand the total wattage required for all of the technology devices being considered. It is not recommended that an inverter is used but when it is, the inefficiency must also be considered. Let's assume a requirement of 50W.
2.       Next, we need to know how many hours the system must operate before it is recharged. Let's assume that the nurse needs 7 hours of runtime.
3.       Calculate the minimum capacity of a battery that will provide 7 hours of continuous runtime by multiplying the wattage required by the number of hours needed. (7hrs x 50watts = 350 Watt-hours.)
4.       In this case, the battery selected must have a minimum capacity 350Wh to run for 7 hours. –Regardless of what the salesperson is telling you.
cartadvocate – OK. I think everyone agrees that makes a lot of sense. After run time consideration…
Go here – To read the complete conversation with Patrick Ney of Anton/Bauer on Medical Cart Mobile Power Systems.